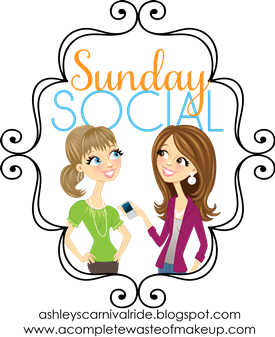 ">
Today I am linking up & doing Sunday Social for the first time :)
Hope you all had a fabulous weekend.
This Weeks Questions:
1. What is your favorite Holiday season tradition?
EVERYTHING! I love absolutely everything about Christmas.
From decorating to lights, to baking, buying gifts, wrapping! I am enjoying it all!
2. Do you have a certain Holiday movie you watch more than others? If so what is it?
HOME ALONE!
With out a doubt.
3. Show us your favorite decoration or pinterest decoration you wish you could have?
I wish my front porch looked like THIS!
I have decorated my house.. but for some reason I am not able to upload pictures?
I will get it figured out and give ya'll a little preview soon
4. Favorite Holiday song?
Baby All I Want for Christmas is You Mariah Carey!
5. Favorite Holiday dessert?
Buckeyes!
Although I will be avoiding holiday desert like the plague this year.
Hope you all enjoy the rest of your weekend.
I am off to work!